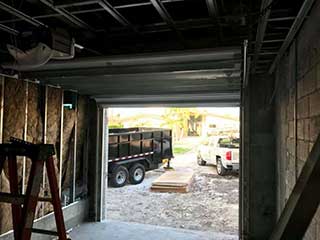 Functionality is incredibly important when it comes to an automatic garage door. If some part of the system breaks down, trying to keep using it will result in more serious damage in the near future. Of course, some issues, like a broken torsion spring for example, will make it impossible for you to use the door at all. Whether it's a major malfunction, or a seemingly minor one, our technicians will be able to help you.
Potentially Dangerous Issues
Springs are an invaluable part of your garage door. They support the weight of the panels and provide the counterbalance necessary to lift and lower them. For those reasons, these components are under a great deal of tension on a regular basis, and therefore dealing with them is something only a professional should do. If you find that you need to have a spring replaced don't hesitate to reach out to our team to have the project completed quickly and safely.
Comprehensive Motor Repair
Your garage door opener can experience a number of different issues, all of which will probably hinder its performance in some way. Misaligned sensors will cause the door to reverse each time you try to close it. Problems with the motor gear or the circuit board can prevent you from even being able to open the door at all. Whatever the cause may be, our technicians have the skills and the experience to quickly find a solution. Our troubleshooting methods guarantee that we'll always be able to locate the problematic part.
Give Us A Call Today
If you require emergency spring replacement or you find that some other part of your automatic system has failed to work properly, let our team at Garage Door Repair S Jordan know. We'll take things over from there and make sure that the problem is resolved as quickly as possible.
In addition, count on us for:
Part Replacement & Repair
New Garage Door Clickers & Remotes
Emergency Garage Door Repairs
Broken Spring Replacement & Repair