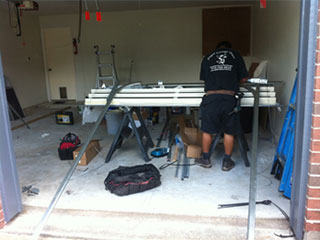 Routine Care
Maintaining your garage door is the first step in avoiding future hassles with broken, slow, or otherwise misbehaving doors. Springs need to be checked for wear, and the parts that open and close your door need to be carefully inspected in order to prevent sudden breakdowns. During maintenance, our technicians can let you know if your motor is burning out, or if your trolley is coming off its tracks. Keeping your metal parts free from rust and corrosion is another step that can keep your door functioning smoothly for many years without mechanical failure. Our maintenance checks include minor repairs and worn parts replacement so that you can guarantee yourself peace of mind about your door's care and upkeep.
Safety and Prevention
An ounce of prevention is worth a pound of the cure. Make sure that you can spot your repairs before they spiral out of control with an annual inspection from one of our trained technicians. When you store things in your garage, the safety of your possessions goes hand in hand with the security and integrity of your door. Often, broken doors are just left open for convenience's sake, but that exposes your home to risks in the form of weather, animals, and passers-by. An annual inspection can help keep nasty surprises at bay, both mechanical and otherwise. Let one of our trained professionals handle all of your maintenance needs to ensure that your garage door is the last thing on your mind.
Don't Fall Behind
A timely maintenance schedule is nearly as important as the maintenance itself. Going more than a year without an inspection can risk broken parts and wasted time scheduling repairs that could have been prevented. Changing seasons can considerably damage the mechanical parts of your door, from sleet and snow to wind and heat. Contact Garage Door Repair South Jordan for details on how to best care for your door between professional visits, and to schedule your check-up.
We also offer:
Garage Door Tune Up Services
Genie & Liftmaster Opener Services
Garage Door Extension Spring Installation
Overhead Door Repair & Installation