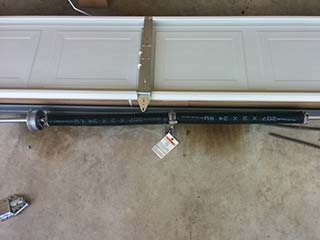 Nothing lasts forever, no matter how well put together it is. Garage door components are no exception. In particular, the springs will need changing after every five to ten years of regular use. They do most of the hard work required to lift your garage door off the ground, so they absorb most of the mechanical stress. Once a garage door spring breaks, the opener and lift cables will start having to deal with all the door's weight on their own, which they aren't designed for! This leads to even bigger problems down the road, and possibly even dangers to life and limb. Garage Door Repair S Jordan is always on hand to replace broken springs.
What Broken Springs Do To Your Door
To put it simply, a garage door with broken springs will tear itself apart during use. The automatic opener system relies on the springs to absorb most of the door's weight. Without them, the motor could blow out, or one of the belts or lift cables may snap under the tension. These are all much more annoying to replace. If the break happens while you're opening the door, which it usually will, a flying cable or chain could lash with dangerous force. If you suspect that one of your springs is broken, you should avoid opening your garage door unless it's an emergency. Call for replacement springs immediately, and avoid using the door until they're installed.
Perils Of Mishandling Spring Replacement
When installing a new garage door spring, you have to be careful of the tension pushing back against the door. Tampering with the broken springs has all the same risks as trying to open the door on them, but with a much greater chance of personal injury. This is a job for trained technicians only! To avoid the risks and inconvenience of broken springs, it might be a good idea to replace them before they give out instead of after. Keep track of the estimated service life of your springs, and call your S Jordan garage door care professionals when it's running out.
Same Day Garage Door Spring Replacement In S Jordan
If your local garage door has a broken spring you need replacing, our service technicians will reach you as soon as you hang up your phone call. Our S Jordan garage door spring replacement techs have more than a decade of experience carrying out repairs. There's no need to panic about a faulty spring when you can have us on the way. Call for emergency broken spring repairs any day you need it!